MARY'S JOURNEY ….SERVING FAITHFULLY FOR 14 YEARS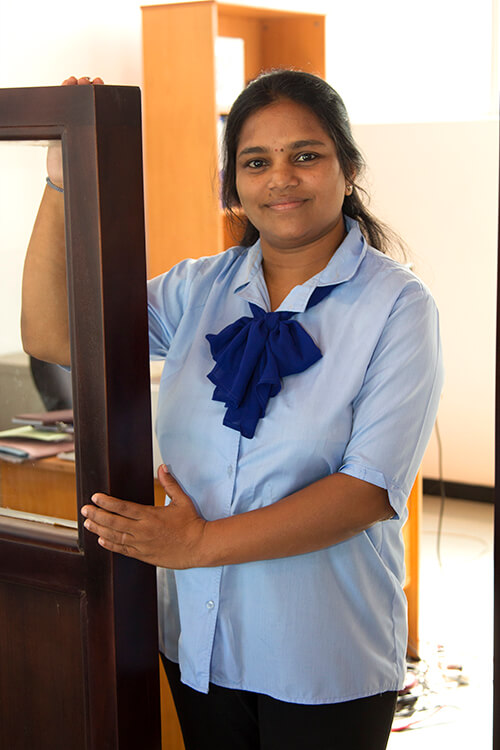 A young lady, with eyes shining brightly, a beautiful and gentle smile with a heart of compassion serving vulnerable children, youth and women. Mary.  Mary's journey began in the development sector 14 years ago when she applied for the position of Mobilizer in an International Development Agency.  This agency worked with vulnerable children, women and men including survivors of the conflict under the leadership of Yugashakthi (Guarantee) Limited's Chief Executive Officer, Mrs. Selina Prem Kumar.  Mary had the golden opportunity of being nurtured and groomed by Mrs. Prem Kumar and began to grow and thrive in character and work.  She climbed the ladder of success in getting promotions frequently. 
Mary's commitment towards serving vulnerable children, youth and women was clearly seen during the transition between the International Development Agency to Yugashakthi (Guarantee) Limited. She had to decide whether to continue working with YGL having to sacrifice a few important benefits or move on.  At the end of the day, her compassionate heart won over rupees and cents. Today, Mary is part of the YGL National Leadership Team and serves in the capacity of Accountability and Monitoring Officer which is a key role in ensuring that the programme deliveries are carried out to the highest levels.
Here is what she says "In general everyone likes children. Likewise, I also like children. Children are loving and expect love too. Children never place a monetary value on the gifts they receive. Even if we give them a toffee, they accept it. Today's children are tomorrow's leaders. Therefore, the right things should reach children. Education is very important. We have to choose orphans and children who have the ability to study well and do not have the facilities and provide the means for them to have a good education. There are also many children who are abused in various forms. If they know what abuse is, they can protect themselves from being abused. Educating children on what is a 'good touch', 'bad touch' and related issues will give them knowledge and understanding on protecting themselves and child rights. Motivational and leadership training will help children develop well.
Although men and women should be treated equally, in some rural villages, wives are treated as slaves and also depend solely on the husband's income. Unfortunately, the husbands do not give money to their wives and spend their money on liquor. Due to this reason, we have established Self Help Groups to empower and protect women from slavery.
The enthusiasm I have to serve children and women is a gift from God to me."
"We have to be kind when we work with communities. When we work with children and women, we have to think of them as our family members. We have to act in the manner we would as if our family members faced a similar situation. It is important that while treating them as family members maintaining professionalism. This type of development work offers us a unique opportunity to be a blessing in the lives of children and adults and see their lives change positively.
Personally, I gain immense happiness and satisfaction when I see the impact our work has on the lives of the children and women we serve.
Truly, I am honoured to be a small part of their lives and I invite you to join us in working together towards 'lives transformed to its fullness'!  "
Mary enjoys a happy married life. She and her husband are blessed with two beautiful young daughters. Her husband gives her all the support she needs to work in this sector. YGL wishes Mary and her family God's blessings, prosperity and good health and many more years of serving the vulnerable children and women!
Do you have a passion to engage in a worthy cause and achieve great results?
If you would like to add to a phenomenal story of empowerment and progress, here is the opportunity you've been waiting for!